Should You Get Hardwood or Tile Flooring?


Hardwood and tile are two of the most popular flooring options for modern homes. They're also popular choices for commercial flooring. But which is right for your project? Which one will suit your style, budget, maintenance concerns, and resale value? Experts of

hardwood floor installation in Cumming recommend one or the other based on what you're looking for in quality flooring. Read on to learn the top pros and cons of both tile and hardwood floors.
Hardwood Pros
Hardwood is one of the most popular flooring materials, and it's also one of the most versatile. Install long, narrow planks of hardwood with a natural finish to give your home a classic elegance or install painted hardwood in a unique pattern for a contemporary, cool look. No matter how you install it, it will match with just about every color palette and design theme.
Hardwood also happens to be resilient and long-lasting if you care for it appropriately. Hire a hardwood floor restoration service every few years to repair scratches and dents, give your floor a deep cleaning, and refinish it to restore its elegant shine. Your floor will last for generations. For all of the above reasons, hardwood also gives homes outstanding resale value.
Hardwood Cons
Hardwood is very weak to moisture and should almost never be installed in kitchens or bathrooms. Even if you finish it for moisture protection, hardwood can buckle, warp, or discolor when exposed to humidity or liquids.
Also, it can scratch or dent easily. You should ask your guests not to walk on your hardwood floors with shoes on. Consider laying area rugs and runners in areas with high foot traffic to prevent damage or stains. Stains can be difficult to remove except by a hardwood floor refinishing service.
Tile Pros
Tile is extremely versatile and also extremely popular. It may be the most common flooring material in modern homes. Install it in foyers, bedrooms, bathrooms, kitchens, and just about anywhere you want a stylish surface.
You can even install tile to build shower surrounds, kitchen backsplashes, and bathroom walls. It's resistant to stains, hardy enough to handle weight, and easy to clean. Tile can also be more affordable than hardwood.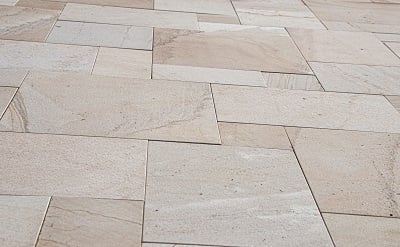 Tile Cons
Tile is extremely hard on the feet and has less natural give than hardwood does. Standing on tile in bare feet can leave you feeling sore. For this reason, you should add area rugs for a touch of softness.
Tile may be resilient, but the grout that cements tiles in place can become brittle or even host mildew if exposed to moisture, dirt, and organic matter such as food particles. Clean and dry all tile surfaces weekly to keep the delicate grout intact, especially in showers and kitchen backsplashes.
And while tile can be fairly inexpensive, cheap tile looks as low quality as it is and can make your home look tacky. Conversely, natural stone tiles, such as marble tiles, can be among the most expensive flooring materials on earth. If you're interested in tile flooring, you should take care to find products in a medium price range to combine good value and attractive style.
Installation
These pros and cons should help you decide which type of flooring is right for your project. Thankfully, no matter which you choose, you'll get a beautiful, quality floor—that is, as long as you choose Atlanta Floor One, the best in hardwood and

tile floor installation in Cumming. We provide flooring and installation services for homes and businesses alike. We also offer hardwood floor sanding services to repair and restore genuine hardwood surfaces. Whether you need flooring installation or repair, call Atlanta Floor One today and tell us how we can serve you.