Requirements for Quality Tile Installation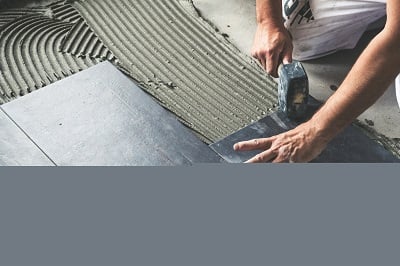 Tile flooring has come back into vogue as homeowners seek a wider range of options when remodeling their homes. Once a fixture largely in bathrooms and kitchens, the use of tile has diversified as more versatile styles entered the market. Tile has a lot of upside as it's stunningly beautiful, durable, resilient, and low maintenance. It's also affordable, which is why more homeowners in Roswell are opting for

tile floor installation to rebrand their homes with bold new styles.
But as is the case with any flooring, the beauty and longevity of your tile flooring is limited by the quality of installation. Tile installers aren't all created equally, and while some adhere to industry standards for installation, others may cut corners and undermine the integrity of your tile. It's important that you hire an installer who agrees to meet the recognized requirements for quality tile installation as defined by the American National Standards Institute. Keep reading to learn about the requirements for quality tile installation.
Hire Certified Tile Installers
The company you choose for your tile installation should hold its employees to the highest standards to guarantee their results. That means you should look for a company that hires skilled tile floor installers who are certified by an industry sanctioning body.
Account for Movement
Tile may look like a rigid surface, but it must be flexible to a degree to tolerate the ravages of time and the environment. In many areas of the home where tile is found, there may be wide variances in temperature and humidity on a regular basis. Therefore, installers must incorporate movement accommodation joints that will allow the tile to expand and contract without cracking.
Use Superior Materials and Proper Methods
Even if the craftsmanship is without par, a tile surface can be undermined by materials that are of low quality. It's important that a tile installer doesn't cut corners on materials, as doing so can shorten the lifespan of your tile. Materials are critical to success, but so are techniques and tactics. For example, if there are subsurface cracks, a skilled installer will apply crack isolation membranes to prevent those fissures from expanding and causing problems in the finished surface. An installer should adhere to industry standard techniques during installations to guarantee quality results.
Confirm the Installation Surface is Flat and Rigid
For a tile installation to be considered high quality, it's important that the foundational surface beneath it is sound. That means that before tile work begins, a skilled installer should always inspect the surface to determine if it's flat. If the surface is found to be sufficiently flat for installation, it will be checked for rigidity. The subsurface beneath any tile installation should be rigid enough to prevent cracking of the tile installation once it sets.

Use Proper Mortar Coverage
Mortar coverage is a term that describes the amount of mortar that needs to be placed behind or underneath the tile to ensure it doesn't crack under pressure. That required mortar coverage differs based on tile application. For dry areas, 80 percent mortar coverage is sufficient. However, if the tile is in a wet area or outside, your installer should use 95 percent mortar coverage. If you're using natural stone, 95 percent mortar coverage is the standard for quality installation.
Control Tile Site Conditions
For quality tile installation, the installer must make sure that the environmental conditions fall within the proper range for success. For example, factors like temperature and humidity can dramatically impact the performance of materials, so manufacturers specify tolerances that must be maintained throughout the installation process.
Allow Adequate Cure Time
One of the final keys to a quality tile installation is adequate curing time. Different materials have different curing requirements, but it's important that environmental factors are controlled, and traffic is restricted until the floor is properly set.
For your tile flooring to stand the test of time,

residential floor installers in Roswell must conform to industry standards during the installation process. Though some may be tempted to cut corners to lower costs or expedite completion, the best way to get a beautiful, durable tile floor is by following quality tile floor installation requirements. To learn more about the requirements for quality tile installation, contact Atlanta Floor One at (404) 578-0926.