Advantages of Installing Hardwood Floors and Ways to Maintain It

When you're ready to update the flooring in your home, friends, and family will draw you into a never-ending debate. It's inevitable because everyone has their own opinion about what makes the best choice for home flooring. If you're considering hardwood floor installation in Roswell, you've come to the right place! Read today's post and explore the advantages of hardwood flooring. We've also included some easy maintenance tips.
Hardwood Floors Can Last a Lifetime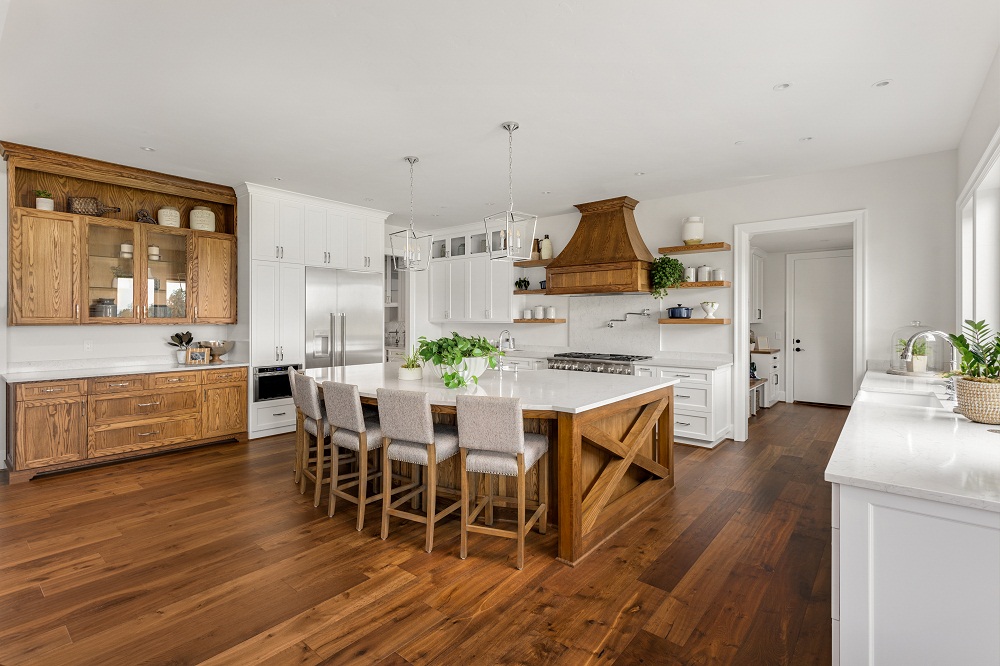 Whether your current flooring is carpet, vinyl, or tile, eventually, you'll need to replace it. Even premium flooring only has a lifespan of between 10-20 years. Carpet fray and attract stains. Tile cracks and vinyl takes a beating from chair legs, sharp objects, and heavy foot traffic. If you follow a regular maintenance schedule, hardwood floors can last a lifetime. In some cases, manufacturers of prefinished solid-wood flooring offer 50-year warranties. It's not uncommon, however, to find original wood floors in 100-year old homes! Damaged to a few boards isn't the end of the road. You can have damaged areas repaired without replacing the entire floor. When they begin to look worn, hardwood floor refinishing will bring back the original luster.
Looking for Sustainable Flooring?
With a growing concern for the environment, many homeowners look for ways to do their part in minimizing waste and reducing their carbon footprint. Because it comes from natural materials, hardwood makes an ideal option for sustainable flooring. Wood is a carbon-neutral product. Furthermore, the replanting of trees through sustainable harvesting ensures a healthy future for forests and human enjoyment. When you choose hardwood flooring, you can feel confident that you're not contributing to deforestation.
Hardwood Floors Make an Excellent Investment
Anytime you update your home, you hope you're adding to its value. Adding value often means spending a little more for upgraded flooring. Sure, you might not spend as much upfront on other types of flooring but consider the longevity of hardwood. It makes good financial sense to pay more for something that will last longer. Whether or not you're planning to sell soon, hardwood floors make an excellent way to invest in your home.
The Enduring Style of Wood Floors
Home décor trends, including flooring, change every year. If you don't believe it, look at how quickly the popularity of paint colors change. For 2020, Pantone chose Classic Blue as their Color of the Year. In 2019, they featured Living Coral. Can you imagine going with the trends and trying to coordinate with your current carpet or tile colors and patterns? Changing décor is easy when you go with the timeless styles and colors available in hardwood. You can switch from a bright, vibrant color theme to one that's cool and tranquil with a coat of paint. Then, change your area rug!
Maintenance Made Easy
Unlike other types of flooring, hardwood doesn't require a complicated maintenance routine. It's naturally stain-resistant, making it easy to clean up spills. You won't need to apply dangerous chemicals, either. If you fight hardwood's number one enemy, abrasive dirt, by sweeping and vacuuming regularly, you'll enjoy your floors for years to come with minimum fuss. Ask your hardwood floor installation service for specific care instructions, including their recommended cleaning solution.
We hope we've inspired you to beautify your home with wood floors! When you search for flooring contractors near me, look no further than Atlanta Floor One. We're the premier residential floor installers in Roswell. Contact us today and

schedule a free estimate!