LVT flooring, or luxury vinyl tile flooring, is a material that replicates stone and wood but provides significantly more practical benefits. LVT can come in tiles or planks, and the printed film allows for a wide range of design options.
In other words, luxury vinyl tile allows the flooring in your home to look authentic without having the practical drawbacks associated with natural products!
The first step in making LVT flooring is the calendaring process, where heated rollers are used to squeeze the compound into continuous sheets. This process allows the thickness and width to be adjusted accurately and consistently.
It is then cooled and laminated into four layers: the backing, fill, print, and wear layers. Each layer serves a unique purpose, from absorbing sound, resisting indentation, and preventing wear and tear. After lamination, the sheets are embossed, and a topcoat is applied – then the floors are ready to go!
Benefits of LVT Flooring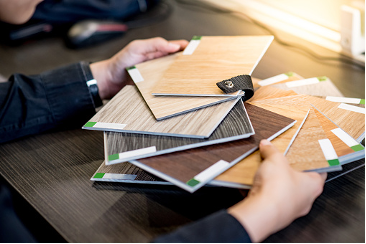 There are many benefits to luxury vinyl tile flooring, with the most prominent one being that it is much more durable than ceramic tile, stone tile, and real wood.
This means that it is a great option for withstanding wear and tear from use your home since it won't chip and is resistant to moisture! LVT flooring is also very easy to maintain. All it needs is a good sweep or mop, and your floors will be good to go.
The moisture resistance provided by LVT flooring allows it to be useful in bathrooms and kitchens where this can otherwise cause problems. The mechanical properties of the flooring allow it to maintain its shape and size, so it will not absorb moisture the way wood does.
Luxury vinyl tile is a softer surface than other flooring options, which helps to reduce sound and can also be more comfortable to walk on. LVT flooring is warmer to begin with, but if you live in a cold environment the flooring works very well with underfloor heating systems.
LVT floors are also very affordable, especially when compared to traditional hardwood flooring. It is also quite easy to install and can be done through interlocking tile or with glue. The installation is so simple that you can do it yourself, which will also help you save money!
This wide range of benefits makes LVT flooring an ideal option for any home.
Drawbacks of LVT Flooring
No flooring option is perfect, and there are some drawbacks to utilizing luxury vinyl tile.
Although the flooring can mimic other types of materials, the synthetic texture does not always have the exact same look and feel compared to real hardwood floors.
The way LVT is constructed prevents it from being able to be refurbished or sanded the way natural wood flooring can, so if repairs are needed you will likely need to replace the flooring.
Similarly, since style preference can change rapidly, it is unlikely that you will be able to find replacement planks or an exact match years later. While this may not be a big issue for everyone, it is definitely something to take into consideration if you are remodeling your home.
Ready to talk to someone?

Schedule a free estimate today! Or call 404-578-0926