Modernizing an Old Shower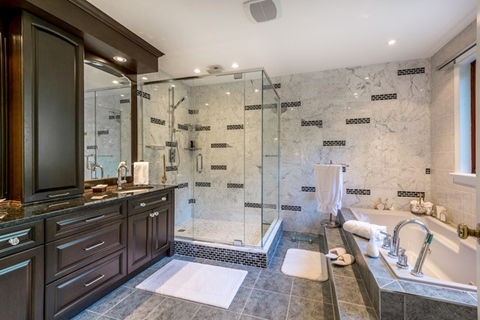 At

Atlanta Floor One, we know that as homes age, areas start to wear out, colors fade, and designs become outdated. This is especially true for our bathrooms where we spend a lot of time. It doesn't always require a remodel to get your bathroom looking new again. There are plenty of ways to tackle certain parts of it to give it a fresh feel.
Update the Tiles
Maybe it's the walls and floor that are getting to you. Many of our bathrooms are lined with tile whether in the shower or along the floors and walls. With so many sleek, quirky, and modern options are there, it's easy just to get your old tile swapped out for something you'll love. You can also paint certain tiles instead of replacing them. A new splash of color or a new shower or bathroom tile can really brighten space.
Redesign Your Shower
The shower makes up a large portion of the bathroom so it makes sense why modifications here can be a gamechanger. If you're on a budget, try switching out your shower curtains, or finishes. From faucets, to new mirrors, these small changes can make a huge difference. For those who have more time and money to dedicate towards this project, try installing new shower doors or even looking to check out our Alpharetta bathroom remodel services with a new shower for a completely new look.
Install New Hardware
The hardware that came with your home is not permanent. Maybe the metal on the handles is wearing off or the shape of your sink faucets don't stand up to your ideal aesthetic. Switching out hardware for newer styles, colors, and finishes can transform the way your bathroom looks overall. Small details make a big difference.
Evaluate Your Lighting
Are you using white light or yellow light in your bathroom? The lighting and light fixtures that are used set the tone for the space. You can choose to go with fluorescent or yellow lighting or find a way to incorporate both throughout the space. Your light fixtures may also need an upgrade. There are many types of fixtures you can install instead like minimalistic style lighting or even chandeliers.
Your Flooring Professionals
Atlanta Floor One is the leading flooring and tile installation company in Alpharetta, Georgia and we take great pride in our reputation as a business that does a fantastic job while also caring for the needs of our customers. Ask us about our flooring, tile and bathroom remodeling services.
Call Atlanta Floor One at (404) 578-0926 or


connect with us online to touch base on your next project.