WHAT color grout to use with white tile?

Atlanta Floor One will help you The color of the grout you choose to pair with your tile can make an impact on the overall look of your home. This is why tile and grout combinations are heavily discussed and takes lots of mixing and matching to really nail down the perfect duo. When it comes to picking out the grout to use with your white tile, we have plenty of experiences to share our insight. Continue reading for tips!
Match the Grout to the Tile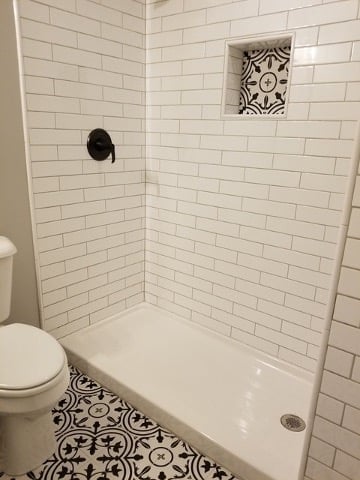 And not the other way around! The tile should be the centerpiece here and while it might seem like white tile is just there, there's actually a lot more to it when you factor in the design and pattern of the tile. You don't want to distract of the main attraction so be sure to pick out tile first and then go about choosing your grout.
Blending In or Standing Out
While the first point suggests you focus on the tile, that doesn't mean you can't add contrast that will enhance the look. If you want the grout to blend, go with a white or beige so that it is all one seamless look. If you want to create emphasis in the area, pick a contrasting color.
Light Versus Dark Grout
A lot of styles will work well with white tile while still keeping the overall room looking bright and welcoming. However, factoring in functionality can also make your decision that much easier. Lighter tile can bring in a refreshing look but can also stain more easily than darker tile. You may also have more upkeep associated with lighter tile. Choosing a grout color that is the same as tile also works if you're trying to keep things simple and clean looking.
Common Grout Colors for White Tile
There are all sorts of neutrals to pick from when pairing your grout with the tile and even some colorful options too if you're looking for something beyond your basics. Gray, white, and black are go-to options that look great in any room.
If there's a certain look you're looking for, you can try playing around with all other colors of the rainbow to match your style. Greens, blues, and even oranges or reds can look great if done right and styled according to the atmosphere of the room. The possibilities are really endless and only dictated by how chic or traditional you are hoping to go with your designs.
Your Flooring Professionals
We are a leading flooring company in the area and take great pride in our reputation as a business that does a fantastic job while also caring for the needs of our customers. When Call Atlanta Floor One at (404) 578-0926 or connect with us online to touch base on your next tile flooring or bathroom project.