Refinishing Hardwood Floors—Here's What You Need To Know

Hardwood floors can add unparalleled beauty to your home—they're classic, elegant, and will last for years. Most flooring alternatives, like vinyl and laminate, are made to mimic the look of wood, but real hardwood can

increase the value of your home by 3–5%.
But there's a catch: once they're damaged, repairing or refinishing hardwood can make for a big (and sometimes expensive) job. If you're looking at a home that needs to have the floors refinished, or you're ready to do your own, here are all the tips on how to refinish hardwood floors.
How to Know When It's Time to Refinish Hardwood Floors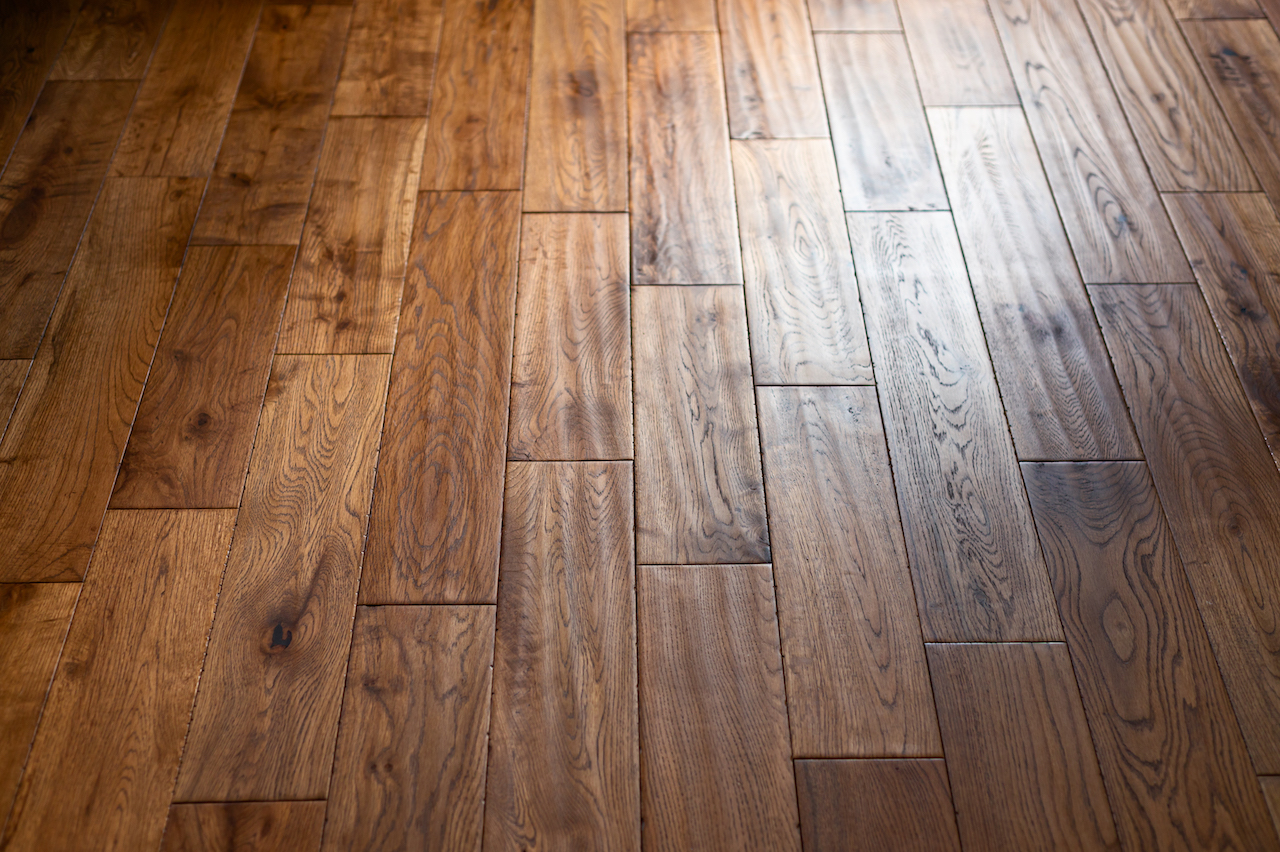 One of the best things about hardwood floors is that they last for a long time, so it's not always obvious when it's time to refinish them. There are a few key signs, though, that will give you an idea if your floors need some TLC:
Cracks in the wood: If your floors are starting to crack, this means that the top layer of wood is drying out and needs to be refinished.

Scratches: If you've noticed scratches or scuffs on your floor, it's likely a sign that the finish has worn down and is no longer protecting the floors from damage.

Stains: If you've spilled something on your hardwood, or it's changed color over time, this is a sign that the floor's finish has worn off and needs to be refinished.

Water Resistance: Drop some water on your floor. If the droplets get absorbed, the fibers of your floor are exposed and it needs to be refinished. If not, it might just need to be cleaned and polished.
How to Refinish Hardwood Floors—Tips & Tricks for Beautiful Floors
Learning how to refinish hardwood floors properly can require a lot of time and effort. And doing the refinishing yourself depends on a lot of factors: your experience level, the square footage of your home, the type of flooring you have, and how damaged it is.
If you're a beginner, it's best to start small: try refinishing a small hallway or one room at a time and practice on other projects in between. If your home has multiple rooms, you have no experience, or you need the job to get done quickly, it will make more sense to hire

a professional.
But if you're going to tackle it yourself, you'll need:
Safety equipment: gloves, goggles, mask

A sander: a handheld or floor-standing machine

Sandpaper in varying grits

Floor cleaner and rags

Sheets or drop cloth to cover walls and vents

Restoration product of your choice (varnish, polyurethane)

Paint rollers, paint brushes, cleaning rags
Now that you've got an idea of what it's going to take, here's a step-by-step guide on how to refinish your hardwood floors.
Start by removing all of your furniture from the room, and protect the rest of your home with tarps or plastic sheets.

Hammer down any protruding nails and walk around to find any squeaky spots. Secure those loose floorboards with finishing nails.

Cover your vents with plastic so dust from sanding doesn't enter your HVAC. Remember to always wear safety equipment, especially while sanding.

Sand down the surface of the floors using either a handheld sander or a floor-standing one. Start with coarse grit sandpaper to remove scratches, then move on to finer ones as you get closer to the finish. We suggest you use a floor-standing sander for the majority of the room and then take a handheld sander into the corners and hard-to-reach places.

Clean off any dust from the floors and remove any nails or blemishes with a putty knife. Fill in any holes with wood filler or putty.

For best results, use a floor buffer to get the floors extra clean and shiny.

If you're staining the wood, apply it according to the manufacturer's instructions and let it dry.

If you choose not to stain the wood, apply a sanding sealer before the restoration finish.

Apply your favorite restoration product according to the instructions, whether it's varnish or polyurethane.
10. Allow everything to dry thoroughly before replacing furniture.
Pro tip: Keep an eye out for dust and hair! To avoid dust and hair getting stuck in the finish, place drop cloths over your furniture and vacuum up any dust that makes its way onto your floors.
One of the most inconvenient things about refinishing your floors is that it's not recommended to stay in the house while doing this job because the sanding creates so much dust and the restoration products have lots of fumes. That's why we suggest leaving this job to the pros—they'll get it done much faster than you could do it on your own, which means less time locked out of your own house.
With these tips, you should be able to easily refinish your hardwood floors and get them looking like new again! Just remember to take your time, follow all the instructions carefully, and be sure to wear the proper safety equipment and protective gear.
Easy Hardwood Floor Restoration with Atlanta Floor One
If learning how to refinish hardwood floors has you overwhelmed, let us take care of it. With more than 20 years of experience, we've refinished hundreds of floors in Atlanta, GA and the surrounding areas.
We love restoring our clients' old hardwood floors that are so full of character—

Atlanta Floor One will revive yours back to its former glory. Schedule a

free in-home estimate so you can meet one of our flooring experts and see if we'd be a good fit!